Our customers are proud of the work we do and below is just a sample of some of those stories or case studies. We'd be happy to add your story to this list and share the success we've helped create. Contact us today to find out how we can help you with your custom plastic injection molding needs and all the additional services we have to offer.
"The plastic parts you produce for us are the core building block of our strategy and we could not have been so successful without your help.
I truly am grateful for your help and partnership in making this a huge success."
    - Phil
"It's a pleasure to work with McDonald Plastic Molding. Not only do they have years of experience, but they are committed to quality and excellence above all else. Several of our projects require precision and exact measurements. We always sleep easy at night knowing that MPM is creating the parts we need at the measurements required."
      - Anonymous
"Throughout our nearly 2 decade long relationship, You have helped us develop and produce high quality, exceptional products that are the mainstay of our business. The staff from the front office all the way through to shipping never disappoints. I would recommend McDonald Plastic Molding to anyone needing injection molding."
      - Anonymous
"McDonald Plastic Molding has helped us create new products over the years from conception and prototyping, all the way through production. Their experienced and talented staff help us create exceptional products each and every time."
    - Anonymous
Customer Issue:
Manufacturing Paint Screen Pick-Up Tube was a labor intensive manufacturing operation as an operator hand loads mesh into the mold and then a plastic frame was molded around it. Previous construction of this paint screen is pictured on the right.
Our Solution: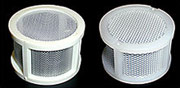 Design and construct a four cavity mold to produce injection molded one piece filters. The mold had to run fully automatic with an overall cycle of less than 30 seconds. To meet this challenge, we engineered a very complex mold containing 16 separate stainless steel slides in a cantilever design and all on radial shutoffs. The cooling requirements for this part and mold were another challenge, with baffles in each core and ejector pins running right through the water lines in certain areas. Venting was accomplished through vent pins and core laminations.
The Payoff:
With an average annual output of over 1,000,000 units/year, the return on tooling investment was approximately six months. We helped our client reduce their cost per unit by 73% and has since produced well over 5,000,000 pieces from this unique tool!
Customer Issue:
Manufacturing oil screen assembly which consisted of a three-piece design with an insert molded mesh screen
Our Solution:
This transfer case filter and pickup tube assembly posed yet another worthy challenge for McDonald Plastic Molding. Shown in the photo on the right (assembled/unassembled), this unit features 1,750 filter holes measuring .025" in diameter. The tube and screen are molded separately in four cavity molds with 33% glass filled nylon and the tongue and groove welding joints have a wall thickness of .010".
The Payoff:
Our engineers converted a three-piece design with an insert molded mesh screen into this radically more effective and inexpensive two piece model. Still being run at volumes of nearly 3,000,000 units a year, McDonald Plastic Molding has provided tens of millions of assemblies without a single customer return!
Customer Issue:
Carpet cleaning filters had serious quality and filtration problems with previous design
Our Solution: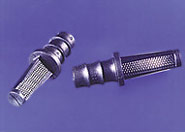 The part shown to the right is a filter for a carpet cleaning system and is molded in one piece using unfilled acetal resin. It features over 250 - .015" diameter holes spaced .011" apart.
The Payoff:
Produced in a four cavity mold, it has an annual volume of over 800,000 pieces and helped one of our customers solve a serious quality and function problem with the previous design!